From Connecting, an online newsletter for current and former AP staffers, here is Karen Ball on how she got started and got ahead in journalism.
Karen Ball – Before tweets, the internet and 24-hour cable, when cell phones were the size of a shoe, I was one of the lucky "girls on the bus." Not just any girl but the AP's lead reporter on Bill Clinton in 1992. I don't say that in a big-headed way, but it was a tremendous and sometimes terrifying responsibility. I had the time of my life.
"Hey, Karen, what's the lead?" other reporters would call out, a respectful nod to the mighty Walter Mears, AP's longtime top political writer.
For this old-timer, I feel blessed to have covered a campaign before social media. We had so much access and the candidates needed the press to get their message out – they couldn't just tap out their thoughts or an announcement on a cell phone.
I was born in Kansas City and always dreamed of a big-city newspaper job. Serendipity had its own timeline. The Missouri j-school was just two hours away and student loans made it affordable. As a senior at Mizzou, I picked the legislative beat, calculating it was the fastest route to the most bylines. Then Jefferson City AP correspondent Jim Willis liked my work and gave me a relief job. That led to a relief job in Topeka, where I got to learn from the legendary Lew Ferguson.
I transferred to the AP's Kansas City bureau for a year, and what a year it was for a lifelong baseball fan. I jumped at the chance to help cover the AL playoffs and the World Series. While I was shagging quotes in the locker room, most of the players-including the great George Brett-were dignified and kept their clothes on. But Bret Saberhagen and Buddy Biancalana pranced around in the nude. I think there was only one other woman in the locker room with me that day. Fortunately, I assume that's a different scene now.
I returned to Jeff City when the No. 2 job opened, and when Willis unexpectedly left the industry, Kansas City COB Paul Stevens entrusted me to run the statehouse bureau at age 26. It was a fantastic job. "The governor needs to see you," an aide might whisper in my ear during the legislative session. The post also gave me freedom to cover murders, manhunts and the oddball feature in outstate Missouri. Every August, someone drew the short straw to go find a story at the State Fair in Sedalia. How fun when the St. Louis Post-Dispatch gave me a front-page byline for my story on belly dancers performing at the GOP fairgrounds tent!
By now I had my heart set on Washington. With strong backing from Stevens, I got an interview with the late Jon Wolman, then Washington bureau chief. After talking politics for an hour, he offered me a job on the national desk.
Wolman liked to groom political reporters by putting them on the Labor beat. So I found myself studying union intrigue, covering national strikes and trying to decipher federal jobs' statistics. Thank heavens my desk mate was the AP's gifted economics writer Marty Crutsinger, with Dave Skidmore just across the aisle. We called it the "poets' corner," since we dealt with dry numbers and charts. It always floored me when an unemployment report was so newsworthy that my name was atop the economic roundup to lead the national digest.
Meanwhile, I jumped at every chance to take a White House pool, following the elder President Bush to Camp David, to the theater, or fishing on the Potomac. Some people found protective duty a bore, but to me, motorcades were thrilling.
Karen and others reporting colleagues on campaign trail
In early 1992, before Clinton secured the nomination, I also followed Bob Kerrey, Paul Tsongas and Jerry Brown in the early voting states. Brown, then a bachelor and former California governor, was the only candidate who was ever remotely flirtatious.  "So, have you been on any dates since I saw you last?" he asked once.
Covering Clinton was a sprint and marathon all at once. If he was awake, I was awake. That meant some days went from 5 a.m. until 2 a.m. the next day. Fueled by caffeine and adrenaline, I was with him wall-to-wall as he crisscrossed the nation, often hitting multiple states in a day.
Because I was always in the pool of reporters with Clinton, my newspaper colleagues let me be one to follow Clinton along rope lines, my trusty Sony tape recorder in hand as he chatted with supporters. I caught every word and typed up pool reports if anything interesting was said. Those were frantic days, filing both for the AM and PM cycle, until midsummer when Steve Komarow rode to the rescue. He was senior to me and could have bigfooted me off the AM cycle, but he was far too classy for that. Sadly, Komarow passed away a year ago.
Occasionally on a long flight, a Clinton aide would pull the Washington Post's David Maraniss and me to the front cabin to join the candidate for a game of hearts. These were off-the-record events, but I always hoped Clinton might say something telling. No such luck. He took his card games deadly seriously, so there wasn't a lot of chit-chat. Clinton was usually of good humor but you could see disappointment cross his face if another player missed a move that could have helped to destroy whoever was winning at the moment.
Pool duty wasn't always fun. It meant long hours cramped in a van behind the governor's mansion in Little Rock, or sitting outside a private ballroom fundraiser. There were pay-offs – Clinton stayed at the Hotel del Coronado whenever he was in San Diego, so we did, too. Have you tried the St. Regis in New York? That is one swell hotel!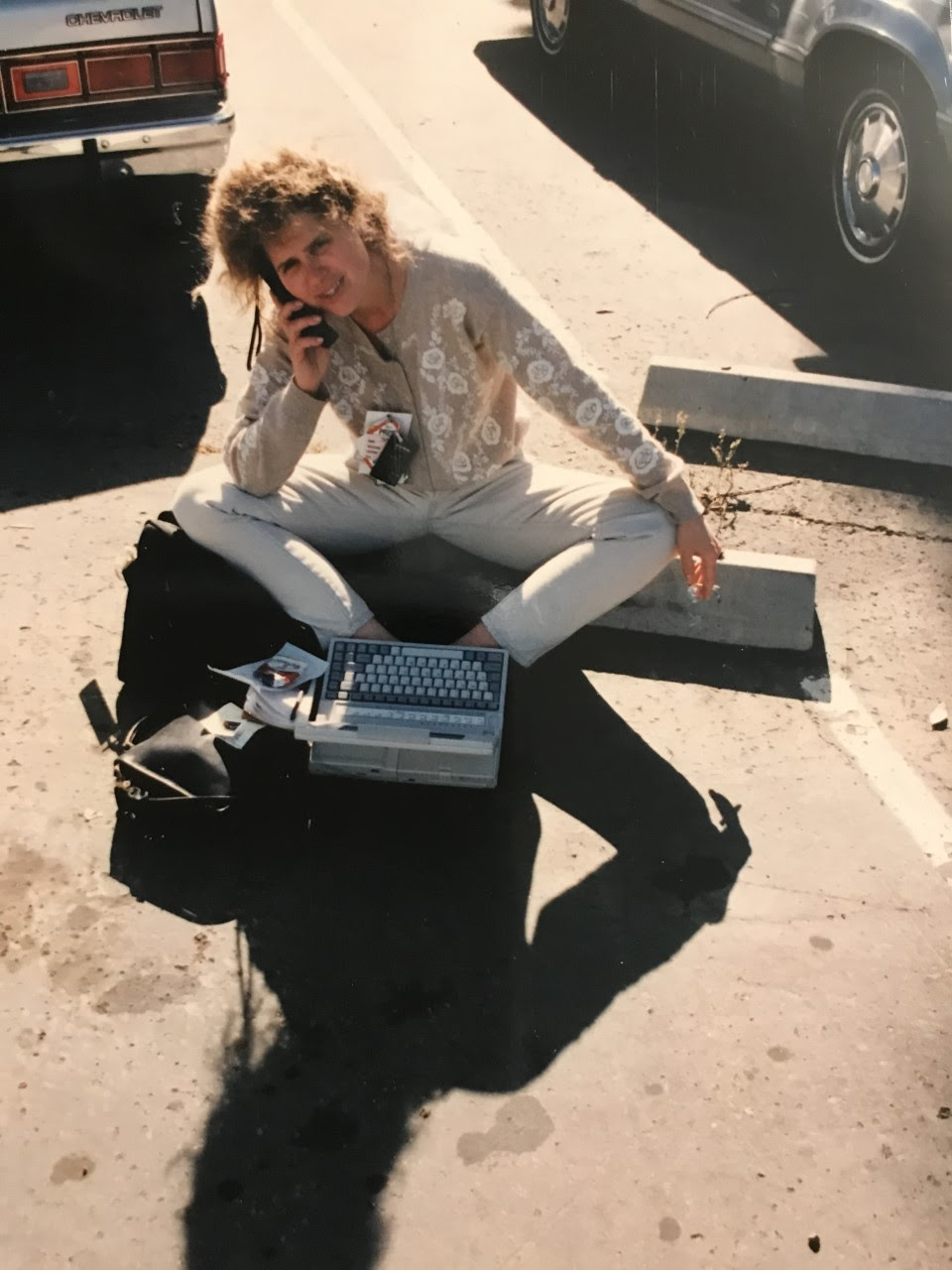 Filing from the campaign trail, 1992.
I had the 3 a.m. bulletin out of Little Rock when Clinton asked Al Gore to be his running mate. That was the biggest scoop of my AP career. But just as fun and gratifying was covering the daily rallies, especially as the crowds grew. Some of you will remember that back then, reporters were mostly viewed with respect. Clinton usually ran late. So by the time he arrived there had to be a path created through the crowd for the traveling press to get to the risers. It was both discomfiting and heady to feel the gaze of thousands of curious eyes on us as we hustled by laden with laptops slung over our shoulders, our beepers and press tags dangling around our necks.I spent a couple of days on President Bush's campaign to see how that side worked. My two big memories: Mary Matalin saw me kneeling in a hotel lobby tapping on my keyboard and said, "Gawd, your job is worse than mine." And the ride in the chase helicopter behind Marine One. The back doors were open and it was raining. I got as close to that open door as I could, sitting next to the big guys with guns to watch the landscape passing below. I remember the mist spraying my face and thinking I had the best job in the world.
After Clinton won, I was desperate for the White House beat. But Wolman wanted me on the Hill, so I spent a year learning from the best of the best – Komarow, Merrill Hartson and others. I think the relatively normal hours also gave me a chance to nurture a budding romance. I had fallen for a Washington Post reporter's writing long before I met him when he turned up on the Clinton plane before Super Tuesday. David Von Drehle asked me out at an inauguration party in 1993, and we've been together ever since.
With a lot of trepidation and only after consulting journalistic icons like Ben Bradlee,  I left the AP in January 1994 because the New York Daily News offered me a huge pay bump to cover the White House. They sweetened the offer by telling me I'd be on Air Force One to Russia right away. I was worried about the screaming tabloid headlines, but Bradlee was unfazed. "They gotta sell papers!"
Traveling the world with a President was a priceless adventure. I had a front row seat on scenes like Clinton's peacemaking trip to Northern Ireland, his walk along Omaha Beach on the 50th anniversary of D-Day, and the funeral of assassinated Israeli leader Yitzhak Rabin, to name just a few big moments.
But after three years, I grew weary of the tabloid wars and all the travel. I wanted a family. I left the Daily News and had a pretty good freelance operation launched when my son arrived. Von Drehle and I decided we could afford for me to stay home. Three daughters soon followed.
Karen and David in 2003 when their children were between 5 years and 5 months.
We left D.C. 12 years ago to get closer to family. Fortunately, The Washington Post likes having a columnist out here in the "real world." In my spare time. I've done some freelancing and ghostwriting on a few book projects. But mostly, I've used my AP skills-never afraid to bat out a letter or ask a tough question! – in raising money for public schools and city parks. I haven't counted, but Von Drehle says I've raised well over $1 million. I also volunteer for my local high school's journalism program, critiquing stories and offering feedback to students.Keep writing, I tell them. No matter how the business changes, the world will always want solid information and yearn for a good narrative tale.