I still get requests for a story I wrote 18 years ago about deciding what to do when your dog—sometimes not an old one—may require so much vet care that you ask yourself: How much is too much? Is it time to say goodbye?
A Dog's Life: How Do You Decide How Much Friendliness and Loyalty Are Worth?
When your dog or cat is old, the decision is easier. Your pet has had many happy years but now is sick and doesn't have much quality of life left. So you and the veterinarian decide it's time to put your faithful friend to sleep. If kids are involved, there can be protestations, tears, and explanations of life and death.
Four years ago, our vet came to our Bethesda backyard so I could hold our 13-year-old Golden Retriever, Lindy, as he got the injection. He went peacefully, his suffering was over. My daughters and I scratched his name and the date on a stone and put it in his favorite place in the yard.
This fall it was harder. Three years ago, we had adopted another Golden Retriever, a puppy we named Andy. Another wonderful dog—friendly to everyone, a pal to the kids, a good watchdog.
Last summer he began to have periods when he wouldn't eat and several times he went to a corner of the yard to hide. Each time we'd take him to the vet where he'd stay a few days and be fed intravenously and examined.
And given medicine. He would come home, be okay for a while, and go back into another downhill slide. I knew the bills weren't going to be small, but I wasn't about to say we couldn't spend another $500 to bring Andy back.
In the fall, Andy became so weak he couldn't walk. Back to the vet, who said he couldn't figure out what was causing the sickness. The next day, a Friday, a hopeful phone call—"We think it's Addison's disease," an adrenaline insufficiency. The vet said he'd run one more test, and if Addison's was the problem Andy most likely could be made healthy.
On Monday, the bad news: it wasn't Addison's disease. Andy was very weak and the vet didn't know what to do. He said there was an animal hospital in nearby Gaithersburg that specialized in critical care and he suggested we take the dog there.
That Monday evening my wife picked up Andy from the vet in DC and drove him to Gaithersburg. She was told that the care would cost about $250 a day and the vet would call me the next morning.
Tuesday, the phone call from the hospital came: "We are not certain what the problem is—it could be cancer of the lymph system or a parathyroid problem."
"What kind of shape is Andy in?"
"Not good. He's almost in kidney failure, and he can't walk and won't eat."
"What are the chances he can  be brought back to health so he can lead a decent life?"
"Small."
The moment of truth. The vet was describing more tests, possible chemotherapy. I was thinking about loyalty, about the kids, and about money.
I couldn't bring myself to talk dollars with the vet, to put a price tag on Andy's life. And I didn't want to take a family vote. How could the kids decide something like that? Besides, I knew how they would vote.
I told the vet it was time to put Andy down and I'd be out after work to be with him.
I called Jean, my wife, who didn't protest. At 5:30 we headed up to Gaithersburg. At the front desk, the attendant smiled and asked, "Are you here to pick up your dog?"
"No, we're just here to see him."
Andy was in a cage, being fed intravenously, and he didn't wag his tail.
We were told to go into the examining room. The staff put a blanket on the floor and Andy was carried in. We petted him and and talked to him for about 15 minutes, then told the attendant we were ready.
The vet was gentle and comforting. She injected a clear liquid into the IV tube on the back of Andy's neck. A peaceful death.
Several days later came the hospital bill for $1,065.62. I didn't understand most of the tests or terminology, but I paid it without comment.
The kids took it okay. We would put another stone in the backyard. The vet said she'd do an autopsy and call us with the results. I'm not sure I wanted to know whether it was something that could have given Andy another six months or year if I'd been willing to spend another two or three thousand dollars.
What's a dog's life worth? I still go to sleep thinking about him.
——
In 2015 I wrote another Washingtonian story about dogs:
Saying Goodbye to Our Last Dog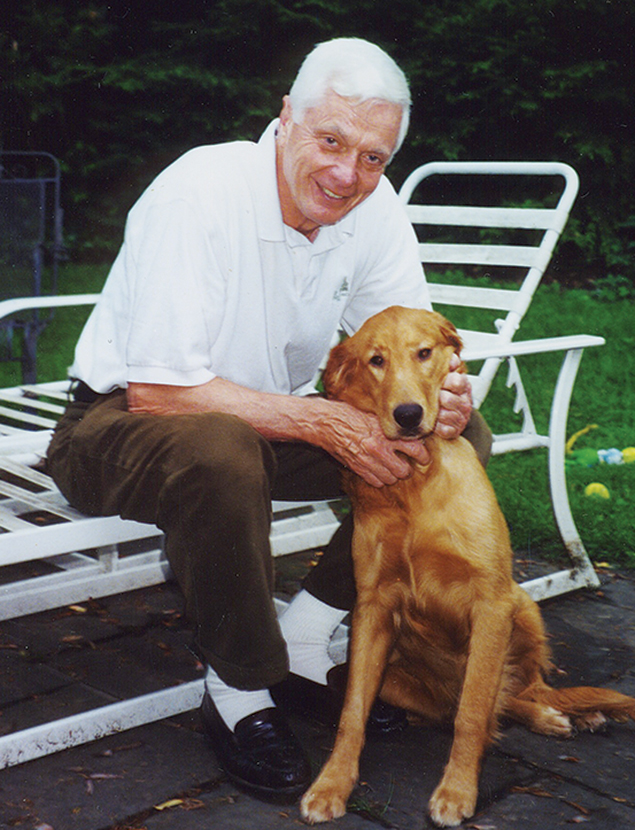 Danny boy: The author with his Golden Retriever.
One winter day in 1983, I ran into a Bethesda neighbor, who said his Golden Retriever had just had puppies and why didn't I bring our two little girls over to see them. Why not, I thought. The next afternoon, I took Annie, six, and Jeannie, two, across the street.
What was I thinking? They were going to see darling little bundles of golden fur, pick them up and cuddle them, then quietly go home?
We made one of the puppies a Christmas-morning surprise. As the kids unwrapped a box, they found a happy dog we named Lindy, a new friend who would love them no matter what.
Three decades and three Golden Retrievers later, our house is much quieter. The girls have grown up and moved away. Lindy lived 12 good years. We cried when Andy battled what appeared to be cancer and had to be put down way too young. Then we had old pal Danny—he almost made it to 15 and died peacefully at home in August. Annie and Jeannie both came home that day.
Now on cold mornings I think, good, I can fix a cup of coffee and relax in the kitchen with the paper. No more checking to see if I have enough plastic bags to clean up after what dogs do. When my wife goes to work, I can read and write without being pestered to open the back door and toss a tennis ball. It's the first time in 32 years we haven't had a dog.
I do kind of miss the neighbors. Walking the dog morning and night kept me in touch with most everyone on our street, how they and their kids were doing, what was going on, when they were going to be away and didn't want newspapers left in the yard or boxes sitting overnight by the front door.
And I got to know just about everyone who walked a dog through the neighborhood. Dog walkers almost always say hello to one another as their dogs say hello. Often that leads to conversations about where you got your dog, which may lead to where you're from, where you went to school, and so on. "What do you do?"—asked so often in downtown DC—rarely comes up.
Once the dog and I were at the park, we'd go out on an open field with a big view of the sky. We sometimes could see the moon in the morning, the changing cloud formations, the birds. We'd see deer, lots of squirrels, and, last summer, a surprising number of rabbits. Those little bunnies moved so slowly—I wondered how many would live to next spring.
We'd see planes from National Airport gaining altitude and heading west. Danny would bark at the noise in the sky, and I'd remember the honeymoon in Barbados and other memorable plane trips. We'd see a helicopter and wonder if it was the President going to Camp David. All those people and planes—a daily reminder that it's a big world and you're a small part of it. It was easy to let my mind wander—it's amazing how much better you think when you're not sitting at a computer.
The truth was that even on cold, rainy mornings it felt good to walk the dog. Lindy, Andy, and Danny all greeted the day with enthusiasm. Come on, let's have some fun. Nice days or bad, I could handle it—I'm not a fair-weather friend.
Will we start again with another puppy? Probably not. As much as we loved raising our dogs and as much as they helped make us a happy family, it's now a little late for all that. Still, not all dogs out there looking for homes are puppies. Maybe there's an old rescue looking for a friend. We could go on long walks together, rain or shine.
—–
2018 update: We have our fourth Golden Retriever—he was named Cruiser when we adopted him and we kept the name. I now don't get up in the morning to go to work but Cruiser is a faithful wake-up call not long after the sun rises. We walk to a nearby park morning and night and still visit with the dogs and dog owners we meet. Our two daughters are now married with children and each has a dog, one also has a cat. They do help bring a family together.
The Washington, D.C., area, like many communities, has a Golden Retriever rescue group; it's called GRREAT: Golden Retriever Rescue, Education, and Training. There are similar rescue groups elsewhere and rescue groups for other breeds of dogs. When our daughter Jeannie and husband Jon recently wanted to adopt a dog, they went to the local animal shelter and adopted Rosie, a Boston Terrier.